Chinese foundry XMC is poised to break ground by the end of this month on a new wafer fab for the production of 3D NAND flash memory, according to TrendForce, a global market research firm based in Taipei.
Sean Yang, research director at TrendForce's DRAMeXchange subsidiary, the commencement of construction on the XMC fab signals an important milestone for XMC in particular and the Chinese domestic semiconductor industry in general.
"While XMC is showing its strong ambition to form its NAND flash business, the Chinese memory industry is signaling that it is entering the next phase of development after two years of groundwork," Yang said through a statement.
The XMC fab, which is expected to begin volume production in 2018, will eventually have a capacity of 200,000 wafers per month, although this could take years to achieve, TrendForce said. XMC currently produces mostly NOR flash memory and its current capacity is about 20,000 wafers per month, according to TrendForce.
XMC, based in Wuhan, is the only Chinese foundry currently engaged in memory production. But it is widely believed that China views ramping up production of memory chips as a path to developing a more robust domestic semiconductor manufacturing ecosystem.
Yang said that the "fast-tracked formation of a local NAND flash chain in China" is attracting the attention of international memory suppliers. Intel Corp., for example, is currently re-tooling its 300mm fab in the Northeast China city of Dalian for the production of 3D NAND, Yang noted. Production at the Dalian fab is expected to begin in the fourth quarter.
When the Dalian fab starts production it will boost China's share of the global production of NAND flash wafers to 8%, according to Yang. That percentage could increase to more than 10% by the third quarter of 2017, according to Yang.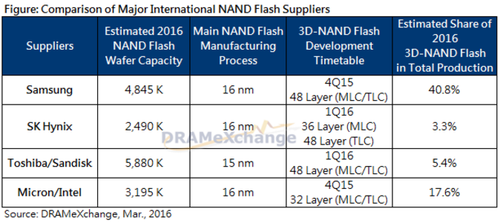 TrendForce noted that South Korea's Samsung Electronics Co. Ltd. is currently the only supplier capable of mass producing 3D NAND flash and expects to begin mass production of its third-generation 3D NAND flash in the second half of this year.
Spansion Inc. announced in February 2015 that it would work with XMC on 3D NAND