5 trends to watch at Mobile World Congress
By eeNews Europe
---
Here comes 5G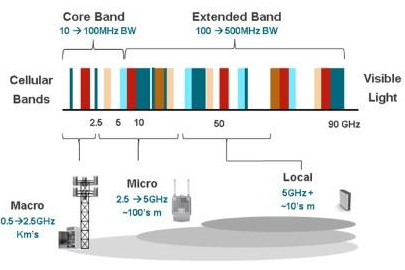 The mobile industry is already abuzz about next generation cellular wireless, 5G, which is slated for mass deployment in 2020. Several keynotes and sessions will be dedicated to the 5G ramp-up at this year's show.
All the major players — Qualcomm, Intel, Huawei, etc. — along with a handful of smaller companies and startups are setting up infrastructure to meet the demands of faster throughput and higher bandwidth that 5G will surely bring.
"5G as a standard isn't done, but there are people who are looking at [4G and 5G] and trying to do pre-standard product," Linley Group Analyst Jag Bolaria told EE Times. "5G is talking about massive MIMO…focused beamforming technologies to target the signal in right direction, then increasing data rates from 1 gig to 10 gig and beyond."
Higher data rates in 5G will also require more complex modulation and improved spectral efficiency, such as use of licensed and unlicensed spectrum. One chip giant hopes to improve cellular communication by mixing LTE and LTE-unlicensed (LTE-U) channels together with Wi-Fi. Such systems would likely be deployed in dense urban areas, but those chips face the challenge of managing global frequencies.
To mitigate high demand for throughput and decrease the cost of 5G deployment, several companies aim to virtualize cellular at the radio access network (RAN) level or at the core. Accenture's Miguel Myhrer said it's imperative that carriers begin to look at software define networks to reduce cost "by orders of magnitude."
Tier two and three operators around the world, particularly in eastern Europe, are already playing in that space, which Alcatel-Lucent, Huawei and other traditional network providers are also focusing on the same area. Non-traditional players like startups are also pushing virtualization, Myhrer added, pointing to Connectem and Lenco. Major deployments are expected around 2020 while smaller companies might move earlier. Myhrer continued:
This [virtualization] will be an ultimate game-changer once fully deployed, but the whole industry will blow through this. You'll start seeing more focused deployments around SDN space with large operators in the U.S. and Asia, but they need a strategy on how they fit in from profit, to people, to perspective.
IEEE Senior Scientist Kevin Curran is a bit skeptical about the 5G timeline because of high tariffs and data plan rates for 4G users in the United Kingdom. Curran questioned the rationale behind 5G when 4G hasn't come up to speed in his home country.
"We talk about 5G enough, but it hasn't really happened. I don't particularly see a standard for 5G because they still haven't formalized where the technology is," he told EE Times. "We have seen rollout experiments in Finland and South Korea; what we've seen with 5G so far is top end 4G equipment."
5G is an umbrella term, Curran added, "but we'll know it when we see it."
---
M2M disguised as IoT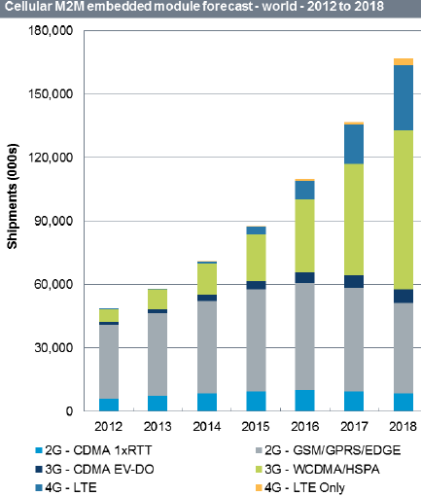 Machine-to-Machine (M2M) communication, refreshed under a hotter moniker, the Internet of Things (IoT), will take center stage at this year's Mobile World Congress.
While not all IoT devices demand direct cellular connectivity (Bluetooth Low Energy or WiFi could do the job), cellular network operators are aware of LTE's potential role in IoT apps that need high data rates, low latency or have a long time-in-market.
Today, a majority of M2M depends on GPRS. But LTE — when adapted to the needs of M2M in the form of LTE Cat-0 or LTE-MTC — "will eventually be more optimal for M2M than GPRS," said IHS senior principal analyst Sam Lucero. IHS estimates that M2M LTE connectivity services will grow from 182,000 cumulative connections in 2013 to 46.7 million cumulative connections in 2018.
However, in the M2M/IoT debate at the Mobile World Congress, LTE won't be the whole story.
Expect the M2M competition to heat up, as alternative network technologies are poised to steal some thunder. Several low data rate cellular style systems like LoRa and Sigfox are eager to fill in the market void until LTE Cat-0 (2015-2016) and LTE-MTC (2017-2018) are ready.
A narrowband, 900 MHz network by Toulouse, France-based Sigfox, for example, is already deployed widely in France and Spain and has some coverage in the Netherlands and U.K. Telefonica, SK Telecom and NTT Docomo Ventures took part in Sigfox' latest funding round ($115 million) along with other new and existing investors.
Similarly, the LoRa Alliance based on proprietary technology from Semtech attracted a handful of small carriers as well as giants such as Cisco and IBM when it was launched at CES last month. The LaRo Alliance is expected to announce new carriers joining the group.
While media coverage of Sigfox and the LoRa Alliance comes with a lot of hype, Lucerno said, "Where we need to pay attention is when cellular network operators start signing onto those proprietary M2M networks." Without operators' support, these M2M networks wouldn't get much actual deployment, he explained. Although cellular network operators prefer "managing fewer networks," they could be persuaded if there are any immediate commercial opportunities for M2M. Potential customers can't wait another year or two until the LTE Category-0 becomes commercially available.
Asked about where IoT devices will need direct wireless cellular network connections, Lucerno said connected cars are a good example. Further, whenever developers want to have a direct control over connections – whether remote equipment monitoring or a service contract, they want cellular network connectivity, he added. Another IoT prospect is home/health monitoring devices for which users either don't have broadband or don't know how to connect.
---
Return of small cells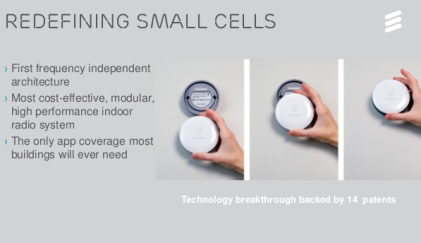 Demand for small cell base stations will be returning to Mobile World Congress this year, with a number of major announcements from companies in the cellular networking game. Ericsson, Alcatel-Lucent, Aquantia, and others aim to solve the problems of increasing data rates and the need for speed with a variety of configurable small cells.
Installment of macro cells has peaked in the U.S., Korea, Japan, and China, Linley Group Analyst Jag Bolaria told EE Times. This year's MWC will see significant growth in LTE and LTE-Advanced, as well as combination technologies.
Most of the investment is going to be in some combination of small cell-type base technologies to increase coverage and focus on specific areas where there are large, dense populations and plug holes in their coverage. Chip companies are developing integrated solutions with small cells…we will see DSPs and CPUs rolled into macro base station SoCs.
While major chip vendors are working on small cell SoCs, Bolaria also expects different technologies to roll out at the conference and throughout the year. Distributed antenna systems for stadiums, small cells for dense but sprawled campuses, and macro tower relays will all play a role in communications for the next five years.
Although many experts would put the arrival of 5G in 2020, mobile operators and networking companies are readying themselves today. Ericsson developed a new radio system modular architecture and router to accommodate multi-standard and multi-band technology. Ericsson expects its system to support up to 25 exabytes per month of mobile data by 2020.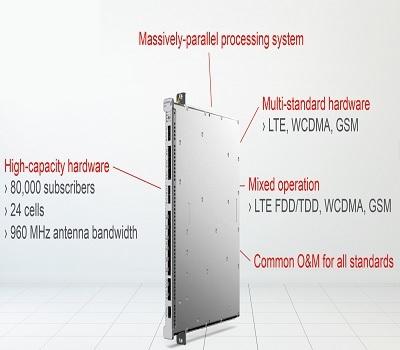 Following trends in networking, several operators hope to bring the cost of communications down through virtualization such as cloud-radio access networks (C-RAN), which aims to reduce cost, centralize baseband units, and have remote radios. Aquantia announced a 28 nm low-power, adaptive rate physical layer transceivers for indoor C-RAN architectures to improve indoor cellular connection.
Aquantia's AQcell can transport multi-gigabit/s digitized cellular signals over up to 200 meters of copper cables. AQcell PHYs act as the front haul solution between remote radio units and centralized baseband units at 2.45 Gigabit/sec, 4.92 Gigabit/sec, and 9.83 Gigabit/sec data rates.
C-RAN is problematic because several gigabits per second speeds require a lot of bandwidth, which requires a lot of fiber; that infrastructure isn't in place everywhere. As 5G nears, Bolaria expects OEMs to increase data rates by adding more antennas, more complex modulation to have more bits per symbol, and introduce more spectrum.
"You're not going to see any one particular winner in this space. You'll see combination of everything," he said. Standardization activity around 5G may begin this year, which chip rollout in 2017 and 2018, followed by the first systems in Korea and Japan in time for the 2020 Olympics.
The MWC is no longer reserved to smartphones and cellular modem technologies. It has morphed into a gathering place to discover and debate connected devices and new network technologies tailored for different applications — best represented by Machine-to-Machine (M2M) communications, aka, the Internet of Things (IoT).
The mobile industry is already hard at work adapting LTE for "Machine Type Communications (MTC)" via the development of LTE Cat-0 or LTE-MTC. But pay attention. Watch for big-name cellular network providers to announce their plans to jump in and start operating low data-rate M2M networks promoted by companies like Sigfox and the LoRa Alliance, said IHS senior principal analyst Sam Lucero.
Network operators coming to Barcelona for M2M are also alert to spectrum allocations, efforts now under way to define the upcoming 5G standard, and effective ways to deploy small cells to meet increasing capacity needs.
"5G as a standard isn't done, but there are people who are looking at [4G and 5G] and trying to do pre-standard product," Linley Group Analyst Jag Bolaria told EE Times.
As the data explosion expands, operators are further scrutinizing the performance of their own LTE networks. They're looking into carrier aggregation, higher levels of MIMO and other new features like coordinated multipoint (CoMP). CoMP sends and receives data to and from user equipment from several points to ensure optimum performance even at cell edges.
In handsets, Samsung's much anticipated announcement of Galaxy S6 and other devices — scheduled on March 1st, the day before MWC starts officially — is already sucking the air out of the pre-show press room. Galaxy S6 reportedly uses Samsung's own Exynos 7 Octa SoC, instead of Qualcomm's snapdragon chip. The word on the street is that this year's entire Samsung's lineup will be Exynos-equipped.
Setting that aside, the biggest trend among smartphones emerging in 2015 and 2016 is a host of "always-on" features embedded in handsets, according to Ceva, a DSP IP core licensor. In short, your next phone will be always listening to you and watching, so that it can add context to your actions. More important, it's intended to anticipate your next move, Eran Briman, vice president of marketing at Ceva, told EE Times.
George Hsu, CTO PNI Sensor Corp. (Santa Rosa, Calif.), agreed. Everyone is seeing "context awareness as the key" to streamline phone operations.
As a part of the connected life, "connected cars" will have a big presence again at the Mobile World Congress.
Whether enabled by cellular connectivity, NFC, RFID or vehicle-to-vehicle (V2) and vehicle-to-infrastructure (V2I) communications, the heart of billions of connected devices is security. Lars Reger, vice president strategy, new business, and R&D for the automotive business unit at NXP, told EE Times, "Security is the name of the game…Otherwise, IoT is just a hoax."
The owner of a connected device must be able to trust messages sent to others. He also needs to know the message his IoT device is getting is valid and trusted, not a prank note from a student hacker, Reger explained.
In the following pages, EE Times will focus on 5G, M2M, small cells, always-on smartphones and security, illustrating five hot trends expected at this year's MWC.
Always-on smartphones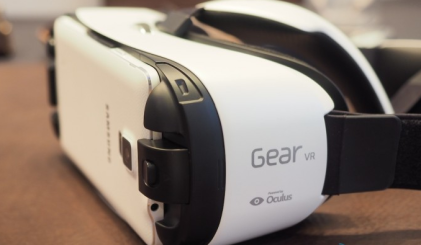 The big pre-MWC news over the last few weeks is the much-touted curved display on Samsung's next smartphone Galaxy S6. Scheduled for unveiling the night before the MWC, it has also triggered speculation about which U.S. carriers will launch it.
As Apple and Samsung are the two giants occupying much of the global smartphone market, their next flagship phones mean everything to the rest of the industry.
Many handset vendors expected to launch new smartphones at the MWC are holding their specs close to the vest. However, the biggest trend among smartphones emerging in 2015 and 2016 is shaping up to be the "always-on" handset, with "context awareness as the key," according to PNI Sensor's George Hsu.
If it took four steps to do certain things on your smartphone, the new context-aware smartphone will let you do it in one, he explained.
A sensor hub, whether implemented as a part of applications processor or a standalone chip, will play a key role in the always-on smartphones. It will also prove effective in accurate indoor navigation, when data coming from Wi-Fi hotspots, cellular and pedestrian dead reckoning (PDR) using MEMS motion sensors in mobile devices are fused, offering a hybrid approach, Hsu explained.
VR coming to smartphone platform
Hsu, however, took the role of sensor hub a few steps further, by predicting that virtual reality on smartphones will be the hot smartphone feature in the next few years. VR games are poised to come to smartphone platforms. It's a natural progression. Game developers have already begun using Oculus VR platform for new games.
While Samsung has already taken a lead with Samsung Gear VR using Galaxy Note 4 as its screen and engine, others will follow, he said. The VR trend is destined to change technology requirements for displays, graphic rendering engine and sensor hubs used for head tracking.
First, "you need higher resolution displays such as OLED," said Hsu. When an optic of Oculus gets too close to display, it has a magnifying effect thus making pixels on LCD visible. Further, LCD isn't fast enough to redraw a screen, he added.
A graphics rendering engine — a part of apps processor in a smartphone — also needs to be able to render graphics fast enough to keep up with VR.
Most important of all, though, is that because VR requires a user to wear headgear, head-tracking technology becomes critical for users' VR experience. Sensor data used for measuring head movements needs to be updated very quickly. The whole process from head-tracking to graphics processor rendering graphics, to the right graphics being rendered on a display, has to happen in less than 2 milliseconds for VR to look acceptable, said Hsu. Not every sensor hub is capable of doing this, but Hsu said that PNI Sensor's SENtral motion coprocessor is up to speed.
---
Without security, IoT is a 'hoax'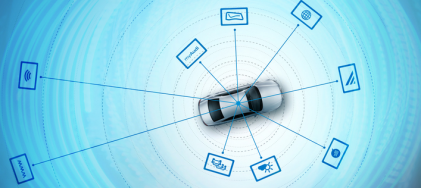 Expect a future when your car, your wallet (NFC-enabled smartphone) and your wristband will be talking to other cars, traffic lights, retailers and a public transportation systems, without your getting involved.
As all these connected devices start exchanging messages among themselves and get really chatty, nothing will be more important than security.
With billions of devices connected, the hard reality is that they all, knowingly or not, are vulnerable to malicious attacks and to the potential for vital information to get intercepted.
Lars Reger, vice president for strategy, new business and R&D in the automotive business unit at NXP, was succinct: "Security is the name of the game…otherwise, IoT is just a hoax."
NXP, armed with crypto hardware, takes pride in its strong security. Whether in NFC, identification cards, smart car keys and connected cars, Reger said, "We see our roles is to offer interfaces" for secure connectivity, capable of verifying the owner of a connected device and the validity of messages.
NXP is planning to showcase a Tesla as a prototype connected car, demonstrating numerous scenarios. The connectivity examples range from an NFC-accessible trunk and an NFC-enabled mobile phone to an NFC-reader installed on the windscreen for car sharing applications and an RFID license plate for smart access, Reger explained.
The idea is to show not just a connected car, but a whole ecosystem of connectivity, said Reger. The company will be talking about V2V and V2I applications and a small radar system that sees as far as one kilometer down the road.
Other chip companies such as Freescale will be also discussing technologies involved in the development of accident-free cars.
— Junko Yoshida, Chief International Correspondent, EE Times
---
---