Android One debuts in India, ignites next 5 billion battle
By eeNews Europe
---
The first offering in Google's Android One project is priced at 6,399 rupees ($105).
Android One, an initiative unveiled at Google I/O earlier this year, is designed to address a nagging problem among earlier entry-priced Android smartphones, which are said to offer an inconsistent and fragmented user experience.
Under the Android One project, Google takes more direct control over low-cost Android phones, building in a set of mandatory features. Google has also sourced several components to help cut manufacturing costs.
In launching budget smartphones in India, Google teamed with Indian mobile players such as Micromax, Karbonn, and Spice Mobiles, and Taiwan's leading mobile chip vendor, MediaTek.
In essence, Google declared its intention, on behalf of OEMs and ODMs, to tune the phone, work out the bugs, keep it secure, and update it.
Racing to exploit the growth in India
Google's Android One launch comes on the heels of new low-cost smartphones running Mozilla's Firefox operating system, just rolled out in India a few weeks ago.
Mozilla, in conjunction with China's leading mobile chip vendor Spreadtrum Communications, had promised at the World Mobile Congress in February to offer ultra low-cost handsets targeting first-time smartphone users. The company delivered in India a smartphone that retails for 1,999 rupees, about $33.
Meanwhile, Samsung is rumored to launch in India low-cost smartphones that run the Tizen operating system, according to the Wall Street Journal.
Google's Android One project is a critical step for Google to protect its stake in the more than five billion people still without a smartphone. On the company's blog site, Google wrote:
While 1.75 billion people around the world already have a smartphone, the vast majority of the world's population — over five billion more — do not. That means most people are only able to make simple voice calls, rather than connect with family through a live video chat, use mapping apps to find the closest hospital, or simply search the web. We want to bring these experiences to more people.
Whether Android One-branded handsets, priced at $105, are enough for Google to lead in emerging markets, however, remains to be seen.
Consider India.
Reportedly, there are more than 80 smartphone brands in India, many manufactured by China's white box vendors. Companies such as Samsung, Motorola, Microsoft's Nokia, and China's Xiaomi are also racing to exploit the boom in India.
Industry sources note that the Android One phones must come down in price. More important, if Google really wants to win, they need to offer customers more than just affordability.
Google says that to help ensure a consistent experience, "Android One devices will receive the latest versions of Android directly from Google." Google is promising users that "you will get all the latest features, up-to-date security patches, and peace of mind knowing your stuff is always backed up."
Google also promised that Android One devices will be "some of the first to be updated to the Android L release later this year."
Further, Google is offering a scheme to reduce data costs for users in India. Google noted, "If you have an Airtel SIM card, you'll get these software updates for free for the first six months. As part of this same Airtel offer, you'll also be able to download up to 200MB per month worth of your favorite apps (that's about 50 apps overall) from Google Play — all without counting toward your mobile data usage."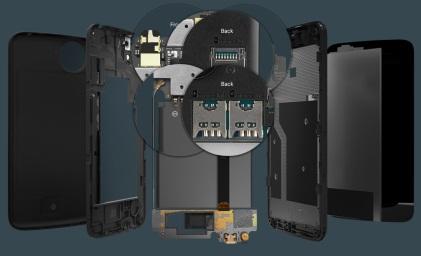 Beyond the hardware vendors mentioned in the initial Android One devices launched in India Monday, Google said more partners will join the Android One program. They include phone manufacturers Acer, Alcatel Onetouch, ASUS, HTC, Intex, Lava, Lenovo, Panasonic, Xolo, and chipmaker Qualcomm.
Google is also planning to expand the Android One program to Indonesia, the Philippines, and South Asia (Bangladesh, Nepal, Pakistan, and Sri Lanka) by the end of the year.
— Junko Yoshida, Chief International Correspondent, EE Times
---
---
Register to our newsletter