Apple unveils new chips for mobile
By eeNews Europe
---
The iPad Pro runs on a 64-bit A9X, Apple's third generation of custom designed processors. While Apple was expectedly short on details, officials announced that A9X has twice the memory bandwidth of last year's A8X and is 1.8 times faster than the 8X processor inside the Macbook Air 2 for "desktop-class performance." The tablet supports 802.11ac MIMO and up to 150 Mbits/second LTE.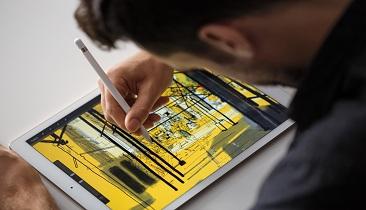 The iPad Pro is faster than 80% of the PCs that shipped in the past six months, said Apple Vice President of Worldwide Marketing Phil Schiller, and its graphics are faster than 90% of those PCs. This is due in large part to an updated transistor architecture — likely a 14nm or 16nm FinFET process from Samsung or TSMC.
Apple is likely comparing its A9X to Intel's Haswell processor, said Kevin Krewell, principal analyst with Tirias Research. "Apple is indicating that they've added a lot of performance to the ARM processors that they custom design… and saying they can get equivalent or better performance to the Macbook Air."
"Part of it is just larger transistor count. FinFET transistors are faster and have lower leakage, which will help design," Krewell said. "They didn't talk about how many GPU counts but doubled the performance of the CPU, so either there are more cores added or you increased the clock speed."
Despite talk about saturation of the tablet market and a reported drop in tablet processor sales, Apple spent a good amount of its two hour event touting the new iPad. Partnerships with Microsoft and Adobe, as well as a new detachable keyboard and stylus, make the Pro a staunch competitor of the Microsoft Surface in consumer and creative enterprise markets.
"I think the iPad Pro will be a very popular alternative to the Macbook Pro; it might hurt Macbook Pro sales," Krewell told EE Times. "The price of the iPad Pro is going to be comparable in price to the Macbook Airs, and I think that's a very deliberate choice."
---
Apple claims that the new iPad will last 10 hours on a single charge. The device likely has room for a larger battery by virtue of being slightly heavier than the first iPad at 1.57 pounds and larger than the Air 2 at 12.9 inches and 6.9mm thick.
The 64-bit A9 processor in Apple's new iPhone 6s and iPhone 6S Plus are 70% faster than the A8 and show 90% faster graphics performance. Apple claims that Wi-Fi on the new iPhones will be twice the speed of the previous generation with support for 23 LTE bands and faster touch ID.
The phones also feature an always-on M9 motion coprocessor. Krewell said incorporating a coprocessor onto a controller is a common trend, with Qualcomm doing something similar on its Snapdragon 820. Apple has likely engineered power islands to avoid battery drain with always-on chips.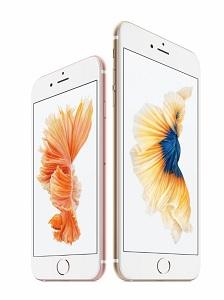 "I think that's a reasonable way to go. You do power isolation to a small corner of the die and that's the always-on part of the chip," he said. "The A9 processor can use next generation FinFET processors so it will probably be able to run fast and go into depower state faster to save power. Force touch, all the other stuff, looks really minimal in terms of impact on power."
---
The iPad Pro will be available in November and the new iPhones will be available in September. The mobile devices were announced alongside a new Apple TV that uses an A8 processor, Krewell noted.
"The A8 is an indication that they're looking at Apple TV from a cost point of view, rather than putting in latest and greatest processor," he said.
The Apple event was almost exclusively iOS focused with no discussion of Mac Pros or Airs, despite the fact that the latest Mac Pro was introduced in December 2013. Apple's MacBook Air laptops are rumored to run Intel Skylake processors, but when those devices will be released is still up in the air.
About the author:
Jessica Lipsky is Associate Editor of EE Times
If you enjoyed this article, you will like the following ones: don't miss them by subscribing to :
eeNews on Google News
---
---