Consolidation redrawing microcontroller landscape
By eeNews Europe
---
An unprecedented level of merger and acquisition activity over the past two years has dramatically redrawn the competitive landscape of the semiconductor industry. Perhaps nowhere has this upheaval been more acute than in microcontrollers, where another proposed acquisition would result in the second shakeup of the top three vendors in a matter of months.
Microchip Technology Inc.'s pending $3.8 billion acquisition of Atmel Corp. would move Microchip into the No. 3 position among microcontroller vendors less than two months after NXP Semiconductors NV moved into the No. 2 spot with the acquisition of Freescale Semiconductor Inc.
"We see a compelling financial and strategic rational to acquire Atmel," said Steve Sanghi, Microchip's chairman, president and CEO, in a conference call earlier this week. " The combination of Microchip and Atmel will create an MCU powerhouse and move Microchip from the No. 4 to the No. 3 position in microcontrollers based on the most recent Gartner marketshare data."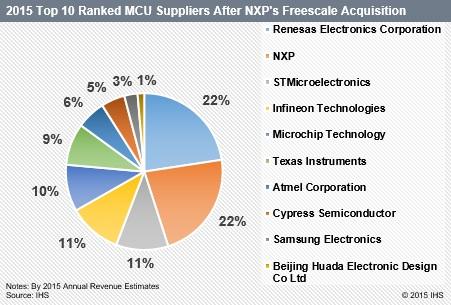 According to market research firm IHS Global Inc., a rival to Gartner, Microchip is currently the fifth-leading microcontroller vendor. An acquisition of Atmel—which is expected to close in the second quarter—would enable Microchip to leapfrog both Infineon AG and STMicroelectronics NV into the No. 3 position, trailing market leader Renesas Electronics Corp. and NXP.
Other acquisitions of microcontroller vendors during the current wave of consolidation have also changed the vendor rankings scorecard, including Cypress Semiconductor Corp.'s acquisition of Spansion Inc. last year.
---
According to Tom Hackenberg, principal analyst for embedded processors at IHS, breaking into the top three would be a boon to Microchip. "A lot of times people look for the top three vendors of any given product when they start hunting for potential solutions," Hackenberg said.
Hackenburg said an acquisition by Microchip of Atmel makes sense. He described the companies as fairly strong comptetitors in microcontrollers, but added that each brings differentiating technology to the table. Atmel has strong IP around touch sensor microcontrollers, MEMS type sensor interfaces, and security technologies that Microchip doesn't have, he added. "There's definitely a product portfolio that Atmel has that would be fairly valuable for Microchip to pick up," Hackenberg said.
But Hackenburg said the acquisition would also pose challenges, particularly since the two companies combined support so many different architectures. Atmel supports the ARM architecture, while Microchip uses MIPS. Both companies also have proprietary architectures, including Atmel's AVR and Microchip's PIC architectures.
"It's a very wide folio of product skews that they would currently have to support. And this is where I see the challenge," Hackenberg said. He added that the crucial step will be Microchip providing customers with a clear roadmap describing which products it will continue to support and which architectures will be integrated into new products in the future. "These are questions that Microchip is going to have to answer to its customers if and when it acquires Atmel," he said.
Ganesh Moorthy, Microchip's chief operating officer, said during this week's conference call that Microchip plans to continue to support the proprietary architectures as well as both MIPS and ARM." I think we have multiple architectures that have large positions in the market," Moorthy said. "Each of them has a following among the customers, has a set of tools that support them, and are large enough that they each independently support the work that is needed to keep running them."
Related articles:
If you enjoyed this article, you will like the following ones: don't miss them by subscribing to :
eeNews on Google News
---
---