DARPA funds atoms-to-products breakthrough
By eeNews Europe
---
The Defense Advanced Research Project Agency (DARPA) is looking for a way to capture the benefits of both worlds: the nanoscale manufacturing while upsizing to a more practical millimeter scale. The agency has now set that challenge to 10 laboratories nationwide in its Atoms to Products program.
"These 'atomic-scale' behaviors have potentially important defense applications," says DARPA's Atoms to Products website, "including quantized current-voltage behavior, dramatically lower melting points and significantly higher specific heats, for example. The challenge is how to retain the characteristics of materials at the atomic scale in much larger 'product-scale' (typically a few centimeters) devices and systems."
One of the leading contractors, HRL Laboratories, LLC (Malibu, Calif.), spoke about the program to EE Times last October, before DARPA was ready to go public with some aspects of the program. HRl has subcontracted with Intelligent Materials Solutions (Princeton, New Jersey) to extend the nanoscale magic of advanced materials by precisely assembling them atom-per-atom.
"To get the benefits of nanoscale engineering at the millimeter scale, we partnered with Intelligent Material Solutions," said team leader Adam Gross who is working with Christopher Roper to realize the Atoms-to-Products dream. "Our initial project will be to control infrared light by assembling nanoscale particles into finished components that are one million times larger."
---
Additive assembly harnesses nanoscale magic
Current nanoscale fabrication techniques are subtractive, such as photolithography, etching and vacuum deposit, but by assembling three-dimensional (3-D) structures–atom-by-atom–HRL and Intelligent Material Solutions hope to extend the amazing quantum effects realized at the nanoscale to chips at the millimeter scale.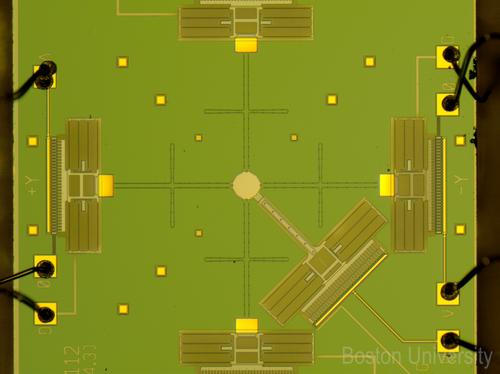 "We have already shown we can assemble two types of nanoparticles for the control of infrared light," said Gross. "We assemble layer-upon-layer of spherical diffraction gratings. Our first milestone will be to assemble two types of sub-200 nanometer gratings into 210 micron assemblies that maintain their nanoscale properties."
That step will take 12 months of the 3-year program. The second step will be to assemble those micro-scale subassemblies into millimeter-sized products that continue to maintain the quantum effects, as well as the lower melting points and higher specific heats of nanoscale assemblies.
---
Other participants, more ideas
Nine other teams working on different projects, including medical applications. The other teams include: Boston University, Draper Laboratory (Cambridge, Mass.), Embody (Norfolk, Virginia), Harvard University (Cambridge, Mass.), SRI (Menlo Park, California), the University of Notre Dame (South Bend, Indiana), Voxtel (Beaverton, Oregon), Xerox Palo Alto Research Center Inc. (PARC, California),and Zyvex Labs (Richardson, Texas).
Embody will concentrate on developing collagen nano fibers that can mimic natural ligaments to the medical recovery of soldiers for quicker and 50 percent lower cost that today. And as with all DARPA programs, they hope that their success will seep into the civilian world of sports injuries.
Draper will concentrate of radio frequency subsystems to boost their range and global positioning accuracy by 20 times by assembling nanoscale braiding subassemblies first at the micron scale then finally at the millimeter scale in phase two. Their technique will be to copy how DNA self-assemblies into an intertwined structure.
Voxtel and Oregon State University will concentrate on imitating nature's ability to self assembly multi-material structures using high-rate fluid-based processes by combining the synthesis and delivery of materials to inkjet-like three-dimensional (3-D) mixed organ and inorganic materials which retain the best qualities of both at a price lower than either alone.
Boston University will aim to build atomic-scale calligraphy techniques that can "spray-paint" with atomic accuracy for tunable optical metamaterials built on the 'photonic" battlefield.
The University of Notre Dame will aim for parallel nano manufacturing techniques that enable optical metamaterials to be manufactured on-demand with specific 'designer' characteristics. Their technique will use optical tiles that can quickly assembled in different configurations using single-atom electrochemistry.
Xerox PARC is creating the world's first digital micro-assembly printer using micrometer-sized ink particles that can assembly centimeter-scale assemblies that maintains nanoscale properties for secure communications, surveillance and electronic warfare.
Zyvex is hoping to create microscale devices with nanoscale properties from the top-down and with atomic precision for ultra-sensitive sensors, threat detection, quantum communications and sand-grain sized atomic clocks.
SRI is aiming to create what it called "levitating micro-factories" that combine micro-electro-mechanical systems (MEMS) with pick-and-pace robot "swarms" that connect micro-scale subassemblies with nanoscale properties into millimeter-sized products ready for deployment.
Harvard is creating a new era of millimeter-scale surgical tools 2D layer-by-layer composition processes to create complex meso-scale 3D devices for specific surgical procedures. Their goal is to allow surgeons to retain tactile feedback even when performing micron-scale surgeries.
About the author:
R. Colin Johnson is Advanced Technology Editor for EE Times
If you enjoyed this article, you will like the following ones: don't miss them by subscribing to :
eeNews on Google News
---
---