Modular robots self-assemble
A new family of self-assembling robots will be described next month at the International Conference on Intelligent Robots and Systems (November 3-8, 2013, Tokyo).
By eeNews Europe
---
---
The brainchild of Massachusetts Institute of Technology (MIT) researchers, the M-Block prototypes, use a unique internal flywheel for locomotion instead of the usual wheels and legs.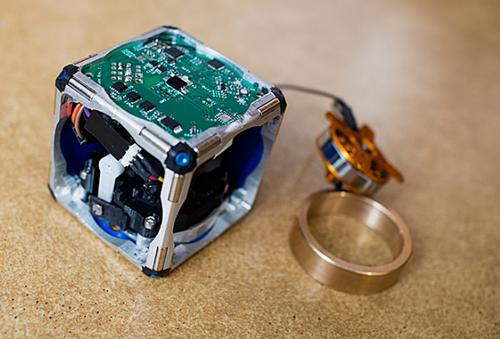 Created by MIT research scientist John Romanishin, with the director of MIT's Computer Science and Artificial Intelligence Laboratory (CSAIL) professor Daniela Rus, and post-doctoral researcher Kyle Gilpin, the cube-shaped robots have no external moving parts, and yet can propel themselves forward, roll over the ground, climb over and around each other, leap into the air, jump atop each other, form stacks, suspend upside down from metallic surfaces, and snap together into any configuration.
The key to their locomotion capabilities is an internal flywheel that rotates at up to 20,000 revolutions per minute (RPM). By braking the flywheel under program control, its angular momentum can impart the desired locomotion. And by carefully aligning permanent magnets embedded into their edges and faces, M-Blocks can snap together to form arbitrary shapes.
To allow M-Blocks to snap together arbitrarily, they use cylindrical magnets mounted on rollers along their edges, so that any M-Block edge can be mated to any other M-Block edge, since their magnets rotate so that opposite poles — north and south — align to hold them firm. The edges are also beveled so that the magnets do not touch unless one is flipping atop the other, at which point the edges touch at the axis of rotation, providing a stronger attraction during the flipping operation, thus anchoring the edge as one rotates atop the other.
Next researchers want to build armies of M-Blocks which can self assemble into useful reconfigurable shapes, such as scaffolding. Also by adding special purpose M-Blocks, holding internal cameras, lights, battery packs and other devices, swarms could self-assembly into complete functioning electronic subsystems.
Currently, the researchers are building an army of 100 M-Blocks, each with programmable smarts that allow them to self-assemble into a variety of useful configurations. Since the internal mechanisms of the M-Blocks can be miniaturized further, the ultimate aim is to downsize the M-Blocks to the point that they an self-assemble into smoother arbitrary shapes than the blocky constructions of today.
Register to our newsletter