Samsung phones pack 14nm SoC
By eeNews Europe
---
Analysts said the handsets will give Samsung a technical edge that could help it regain momentum, at least until Apple debuts next-generation iPhones later this year.
The Galaxy S6 and S6 Edge — which has a much-rumored curved display — include a 14nm Exynos application processor, a novel memory stack, a new fast-charging battery and new display and camera capabilities. Taking a page from Apple's playbook, users will not be able to swap out batteries or expand memory as they did with prior Galaxy handsets. The phones will be available in 20 countries on April 10, 2015 for an undisclosed price.
"I think after several iterative generations, they're really pouring all their advanced stuff into the S6," Envisioneering Research Director Rick Doherty told EE Times.
"Some companies have set themselves apart through designs, others through practicality, but people want both," Samsung President and CEO J.K. Shin told a crowd of thousands at its Unpacked event. "People want the best in class smartphone with best in class design, it's what we have set out to build and we did it," he said referring obliquely to archrival Apple.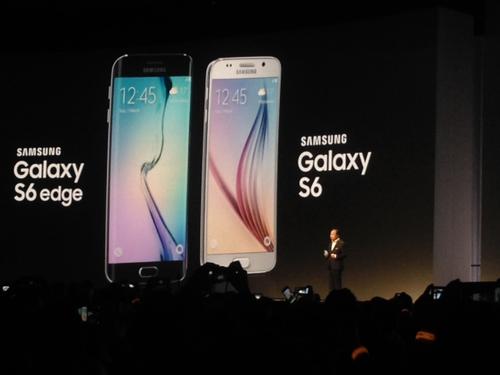 Both new Samsung phones use 64-bit SoCs built in the Korean giant's 14nm FinFet process. The phones pack a CAT-6 LTE modem running at 300 Mbits/second downlink.
While officials scarcely spoke about specs, Forbes has confirmed that the S6 and S6 Edge will use a Exynos 7 octacore processor with four cores running at 1.5GHz and four at 2.1GHz. These chips are 35% more energy efficient than those in the Galaxy Note 4 and 20% faster.
Exynos was previously unavailable outside Asia and now presents Samsung with an additional advantage over fabless competitors such as Qualcomm, Doherty said. Qualcomm has already taken a hit in negotiations over its royalty rates in China, and with Samsung supplying high quality silicon for its own smartphones and lower grade chips to its competitors, Qualcomm may be left in the dust.
The phones also may help Samsung regain market share lost in China last year to Apple and domestic OEMs such as Xiaomi.
"Both versions of the Samsung 6 are important for Samsung as it helps them gain attention in the premium smartphone market again and allows them to compete with Apple and others in this area," Creative Strategies President Tim Bajarin told EE Times. "[Exynos] should keep them competitive and give a slight edge in mobile processes in speeds. However Apple's new chip could be as fast when it comes out later this year," he said.
While Samsung presented some significant innovation, Galaxy champions may need to temper their excitement.
"Apple's momentum with the iPhone 6 and 6S will be very hard to break as the refresh cycle for Apple iPhone customers will be strong for another 12-18 months," Bajarin said.
Ironically, Apple is believed to be designing the applications processor for its next iPhone in Samsung's 14nm process. Samsung's foundry group is courting big fabless companies such as Qualcomm as customers, too. In this way, Samsung appears to be giving itself a slight advantage at the 14nm node with a few months lead over its handset and silicon rivals.
---
With its new handsets, Apple appears to be adopting a page from Apple's playbook. It has created a novel fast-charging battery and enhanced memory technologies but users will not have the option of swapping the components out as they did in previous Galaxy models.
Samsung's new built-in, rapid-charging battery is capable of powering an S6 battery to a 40% charge in 10 minutes. The battery –- 2,550 mAh in the S6 and 2,600 mAh in the Edge — can fully charge in roughly half the time it takes to charge an iPhone 6, Samsung said.
It's unclear whether Samsung has created two batteries or one segmented 6.8 mm battery. The phones also support both Qi and Power Matters Association wireless charging standards.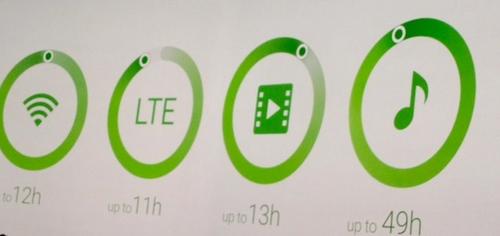 Samsung may be taking a risk with a built-in battery and offerings of 32, 64, and 128 GByte memory options rather than expandable storage. Doherty said his research has shown that many American and European customers chose the Galaxy line for its swappable battery and micro SD card.
"It's a huge change in flexing their technology clout and their position of being first in a few of these features," Doherty said. "They're clearly bifurcating the market a bit. For premium customers [paying for additional storage] probably means nothing, but the question will be, 'will this affect their majority sales,'" he said.
Doherty noted that LG had to "rush out with swappable batteries" in its G3 smartphone when customers were dissatisfied with the G2's internal battery.
The S6 also boasts 3GBytes LPDDR4 RAM, heretofore unseen in smartphones, to achieve an 80% increase in running memory. The company fused SSD and eMMC to create a new flash storage technology similar to that used in smartwatches and Internet of Things devices.
"I think the DDR4 push clearly differentiates Samsung from Qualcomm and Intel in trying to secure these advanced phone sets," Doherty said.
Samsung has improved the media experience on the handsets by using 5.1-inch displays with 577 pixels/inch. Its image sensors support optical image stabilization. It has a 5-megapixel front camera capable of real-time HDR and a 16-megapixel rear camera with object tracking autofocus.
The S6 and Edge were launched alongside a new edition of its Gear VR ready for the S6 and Samsung Pay, which integrates MST or LoopPay and NFC. As many as 90% of U.S. merchants aren't equipped for Apple or Google pay systems, Samsung officials said.
"We believe that for any payment service to be successful universal acceptance is critical. NFC is not universally accepted," Justin Denison, vice president of product strategy and marketing, said. "MST allows you to use mobile payments when merchants only use the stripe barcode."
Users will be authenticated by fingerprint and the card will be encrypted; no information will be stored by Samsung or in the device. Doherty called the announcement bold, but added that Apple and Google won't be threatened until Samsung Pay debuts this summer.
— Jessica Lipsky is Associate Editor at EE Times
---
---