Smartening up power monitoring
By eeNews Europe
---
A good example of Microchip's ability to find niches where 8- and 16-bit MCUs can thrive is the company's just released MCP39F511 single-phase power-monitoring IC. The company's 16-bit PIC MCU is at the heart of the device, allowing it to be used in any application requiring real-time measurement of active, reactive, and apparent AC power; RMS current and RMS voltage; line frequency; and power-factor correction.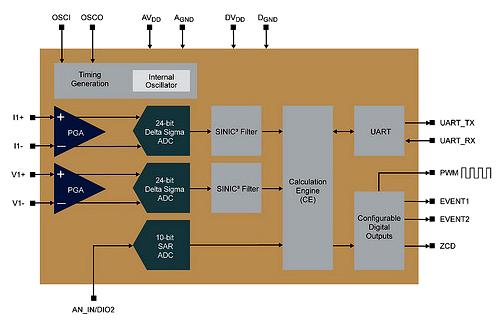 If the company's strategy is right, its MCP39F511 will find a niche in not just one new market but several: high performance commercial and industrial products such as lighting and heating systems, smart plugs, power meters, and AC/DC power supplies. While each of these niches is small compared to the kinds of volumes seen in the consumer markets such as mobile devices and wearables, collectively they add up.
For example, smart plugs to measure energy used by individual appliances help identify those that consume a lot of energy while active and those that consume excessive standby power. Usually installed near or in line with the residence's home automatic meter readers, they provide convenient real-time feedback to users so they can change their energy behavior.
Some smart meters offer additional functionality, including real-time or near real-time reads, power outage notification, and power quality monitoring. Another type of smart meter uses nonintrusive load monitoring to automatically determine the number and type of appliances in a residence and how much energy each uses and when.
---
A key element in all such power-monitoring applications is power-factor measurements. Power factor is the ratio of real power to apparent power. It has long been a concern for power companies and is now a factor in consumer and home electronics where both U.S and European governments require power factor correction be incorporated into any consumer product.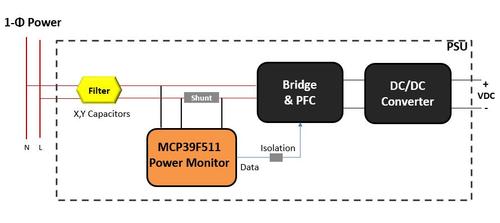 As a result, even home owners are starting to use devices that introduce more reactive-power loads into the mix as energy-efficient lights, such as CFLs (compact fluorescent lights) and LED-based lights containing their own ac/dc lighting ballasts. The power factor has moved from the realm of large-scale industrial motors down to that of consumer electronics.
The problem chip vendors have had in addressing this broad set of power measurement market applications is how to provide the basic measurement capabilities across a wide enough spectrum of applications to keep the cost of deployment low, but at the same allow developers to implement them with a minimum of additional software or hardware development costs.
In past years, IC vendors, including Microchip, have attempted to address these needs with multichip solutions, usually a chip with the analog building blocks and an MCU that the developer would program with the algorithms and operations appropriate to the power measurement task. Alternatively, they have used a combination of dedicated control logic and analog functions targeted at specific power monitoring needs.
---
But many of these market segments, particularly targeting the home, are becoming highly competitive and cost-sensitive. Companies are rushing to compete in these markets, but not all of them have both the necessary programming skills and domain expertise in power-monitoring applications. And all of them want to keep costs down.
To address this broad spectrum of power monitoring needs, the MCP39F511 includes two 24-bit delta-sigma ADCs with 94.5 decibels of SINAD (Signal-to-noise and distortion ratio) performance, a low-drift voltage reference, and an internal oscillator.
In addition, it has a number of on chip enhancements that make it possible to do accurate power measurements with no more than 0.1 % error across a wide 4000:1 dynamic range, allowing it to meet most power meter application accuracy requirements, especially where small shunt sensors are used. The MCP39F511 incorporates zero crossing detection (ZCD) capabilities that can be used for synchronization to minimize voltage spikes and electrical noise if switching occurs at the point where the voltage is momentarily zero.
What makes the MCP39F511 more than just another dedicated power monitoring chip is the inclusion of a PIC-based 16-bit calculation engine at the core of the device. Rather than designing the chip to be programmed in the traditional sense by a developer, the calculation engine has been pre-programmed by Microchip engineers to provide access to a set of power management algorithms.
---
Via a menu accessible from a desktop PC, a developer can select the functions needed and the calculation engine quickly configures the on-chip analog building blocks to fit the specific set of power monitoring and power factor correction needs. The MCP39F511also includes 512 bytes of user programmable EEPROM that a developer can access through page read/write commands to log critical events relating to operating conditions or to do troubleshooting.
According to Jefferay Lawton, Senior Product Marketing Engineer in Microchip's Analog & Interface Products Division., the aim of this design is to provide the means to configure the MCP39F511 quickly to particular needs without the overhead of additional programming, which would increase both cost and time to market.
A power monitor demonstration board is supplied with the MCP39F511. It connects to a desktop PC via a USB link where power monitor utility software developed by Microchip can be used to program a fully functional single-phase power and energy monitoring system. The software also provides developers with an automated control mode.
This will allow experimentation with all system configuration settings such as PWM output frequencies, zero crossing detection options, and event configurations. The software can also be used to create custom calibration setups as well as access an automated calibration process that can be used to quickly calibrate energy meters.
"The unique combination of features and performance we've come up with in this design allows developers to add highly accurate power-monitoring functions to their end applications with minimal firmware development, speeding development time," Lawton said.
About the author:
—Bernard Cole covers microcontrollers and printed circuit boards for EE Times

. Contact him at bccole@techrite-associates.com. More about Bernard Cole.
---
---