Sony dumps PCs, splits TV op, cuts 5,000 jobs
By eeNews Europe
---
It's hard to find any bright spots left for the company that was once Japan's guiding star in the global market.
Obviously, letting go of its PC and TV units is costing Sony dearly. The company anticipates a restructuring charge of 90 billion yen over the next two years. But keeping those two divisions wouldn't have helped. By fighting for the survival of PCs and TVs, Sony would continue to hemorrhage indefinitely.
As previously reported, Sony is planning to sell its Vaio PC unit to Japan Industrial Partners, a private equity venture backed by Bain Capital and Mizuho Securities. Sony will spin its TV business into a subsidiary. Although keeping it as a separate company, Sony might be looking for its eventual sale.
Many investors and those in the analyst community appear to believe that Sony's chief executive Kazuo Hirai has made reasonable choices.
However, what gets to me, and many veteran Sony followers, is the lack of clarity: We all know what Sony was, but what is it becoming?
Rebuilding the foundation of Sony's future on the back of smartphones and game consoles is hardly an answer, in my opinion.
These two businesses showed progress in the third quarter ending in December. Sony reported a "significant increase in sales of smartphones," and a jump in operating income in its game division due to the PlayStation 4 console launch.
But with smartphones and game consoles, will Sony be able to sustain growth over a long haul?
At a time when these two consumer electronics products are fast becoming legacy platforms, well, good luck to Hirai.
No exit strategy?
This morning, as I read the New York Times' story on Sony's earnings, I came across the following quote:
Mr. [Damian] Thong, the Macquarie analyst, said Mr. Hirai's strategy of hanging on to certain consumer electronics businesses made sense because the company has always been more heavily focused on these areas than rivals like Panasonic.
"There is no exit strategy," Mr. Thong said. "Sony is a consumer electronics company."
Really? Sony has no exit strategy?
Here's a comment that makes Sony's future look even bleaker.
In search of an answer, I spent a little time this morning watching video of a keynote speech, given last month by Sony chief Hirai, at the International CES.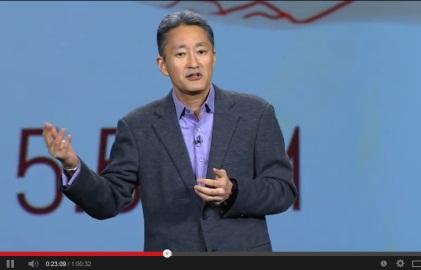 Click here to watch the video clip.
Of course, these keynote speeches are usually so full of self-serving blather and sales pitches that finding any substance is like panning for gold.
But in the middle of the almost an hour-long video, it suddenly hit me.
What if Sony gets out of the box business entirely? What if it zeroes in on the development of advanced "sensing" technologies? And Sony becomes responsible for selling and licensing, and partnering with equipment vendors in different industries?
Hirai spent much of the time during his keynote speech, talking about "future" sensing technologies. He meant everything from Sony's current digital image sensing technology (remember, Sony is the world's leader in CMOS image sensors) to its future advanced sensing technology "that has the ability to see the unseen."
Clearly, Hirai wasn't just talking about the new generation of high-end digital cameras. He cited "a complete array of image sensors," capable of capturing real-time photos, which allows users to "change background and foreground focus, color intensity, image enhancements, depth of fields, and others – even after the picture was taken."
To see the unseen
But his point about advanced sensing technology was to "capture unseen data," including speed, location, wavelength and others, and combine them to expand human perception and insight, and ultimately "to see the unseen."
Hirai talked about the potential of using such technology in automotive (i.e. Advanced Driver Assistance System), agriculture (sensing weather, CO2 consistency), skincare, and more general medical monitoring devices.
OK, maybe this was just marketing hype to make everyone feel better about Sony's future. But if Sony is really looking for an exit plan, I'm convinced this is it.
Despite the public perception of Sony as a consumer electronics appliance company, I think it's time to ditch the CE label and forget about building boxes.
Just because Sony has good ideas to help farmers with its advanced sensing technology, it doesn't mean that Sony has to build the box to hold the technology. Sony won't make money by creating a box for every industry application.
As I pondered this makeover, I realized that this is a total switch of the business model that made Sony who it is today. It was hard enough for Sony – financially, but also emotionally speaking – to dump the PC business and spin off TV. Ditching both game consoles and smartphones will be devastating to the company's workforce.
As of September last year, Sony reportedly had about 145,000 employees. Even after the latest 5,000 job cuts (1,500 in Japan, 3,500 abroad), Sony is still saddled with too big a workforce. That makes it almost impossible to morph Sony into a more nimble, small-scale, technology-focused company.
I know. I just killed my own exit plan for Sony.
But here's an alternative.
We can flip the plan. If Sony's advanced sensing technology is as good as Hirai claimed in his keynote speech, how about spinning off Sony's imaging/sensing technology group? Make it essentially a hungry startup, freed from the burden of carrying more than 140,000 employees.
By all means, Sony shouldn't be hiding unprofitable business units in the name of synergy. But rather than in the perpetual motion of cutting the company to the bone, it's high time for Sony to save one part of the company that might be able to do some good in the future.
If you enjoyed this article, you will like the following ones: don't miss them by subscribing to :
eeNews on Google News
---
---