Startup's piezoelectric MEMS mics may take over
By eeNews Europe
---
And that's just the first generation device, with 80dB in its sights for the future.
"Our piezoelectric material is just beginning to realize its full potential, whereas our competitors using capacitive sensors are approaching the end of the road in optimization," said Matt Crowley, chief executive officer of Vesper, in an interview with EE Times. Crowley recently moved from Sands 9 Inc. (Cambridge, Mass.) — the MEMS oscillator company where he was head of business development — to assume the CEO role at Vesper.
According to IHS, MEMS microphones with better than 64dB SNR will grow at a compound annual rate of 40 percent until 2017. In addition, up to 12 MEMS microphones are being used in modern automobiles, six in modern smartphones as well as smaller numbers in cameras, camcorders, hearing aids, Bluetooth headsets, wearables and all types of IoT portending a two billion unit market by 2017.
According to Crowley, Vesper's high-definition (HD) mics will enable applications that were previously impossible for traditional MEMS mics whose signal-to-noise ratio is limited by the need for a perforated backplate behind the diaphragm. Piezoelectric transducers, on the other hand, have an inherent and enduring advantage over traditional capacitive diaphragms, since piezoelectric tranducers do not require a perforated backplate, which introduces 8db of noise, according to Vesper.
Applications Crowley claims will be made possible by their piezoelectric mic are remote-less TVs that answer to voice commands even when they are blaring football scores. Household appliances that answer to voice commands even in the midst of chaotic family background noises, wearables that take dictation, ultrasonic MEMS stethoscopes and security systems whose cameras only need to be turned on when they hear a suspicious noise and all the Internet of Things (IoT) devices on the horizon. Many of these solutions are also being explored with gesture control which often requires video, but audio solutions, on the other hand, require much less power, Vesper claims.
Smartphone makers will almost certainly snap-up Vesper microphones to improve not only voice commands, but dictation, noise cancellation and flawless audio-controlled voice-zooming which focuses on a single source of audio while shooting videos by virtue of multiple mic beam steering.
---
How it works
Vesper was co-founded in 2009 by chief technology officer (CTO) Robert (Bobby) Littrell who worked with co-founder, University of Michigan professor Karl Groshbuilt as a Ph.D. student. (The University of Michigan is paid a royalty on each piezoelectric microphone sold.) Since then Vesper has built a patent portfolio around their proprietary piezoelectric technology, which works quite differently from a traditional microphone.
Instead of a traditional diaphragm, which requires a noise-producing perforated backplate, Vespers piezoelectric transducer is square and divided into four triangles, in the shape of an "X" drawn between opposite corners, with just enough space between them that they never touch. The piezoelectric material (aluminum nitride) expands and contracts in response to the sound coming in its port producing an ultra low noise signal. The piezoelectric material is also relatively unaffected humidity and moisture, which causes reduced sensitivity in traditional capacitive MEMS microphones.
"Today we have the worldwide exclusive rights to piezoelectric microphones and we plan to continue filing patents to cover other aspects that are unique to the functioning of piezoelectric MEMS microphones," said Vesper.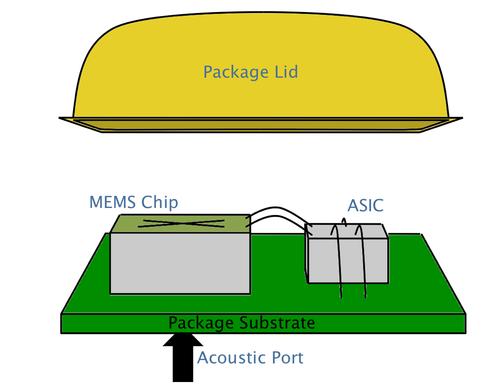 Vesper's business model is fashioned after Infineon, which only makes wafers (albeit Vesper's wafers will be made in a MEMS foundry.) However, one of Vesper's investors is the company that will dice its wafers and package them into a standard 3.35 x 2.5 x 1 millimeter housings alongside an application specific integrated circuit (ASIC) that amplifies the sound signal and processes it for analog output (plug compatible with Knowles). Vesper's first model will use a bottom port, but top-port designs are in the making.
It already has its first customer, which is the unnamed company that will dice its wafers and package its microphones and which also has a stake in the Vesper. They already sell MEMS microphones in high-volume to original equipment makers worldwide and will add Vespers piezoelectric microphone to their catalog.
— R. Colin Johnson, Advanced Technology Editor, EE Times
Related articles:
Top ten MEMS microphone vendors ranked
MEMS mics moving into mainstream
ST opens MEMS microphone test laboratory
---
---
Register to our newsletter