Stretchable OLEDs for displays, lighting
By eeNews Europe
---
By engineering its material stack exclusively from materials that are immune to deformation, the researchers claim future stretchable and bendable OLEDs could redefine the user experience with a new class of smartphone, smart electronic clothing, and wallpaper-like lighting panels.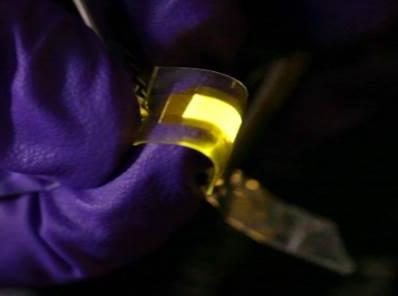 "Imagine a smartphone that is easy fit into one's pocket, but the screen could be expanded for viewing comfort," said UCLA professor of materials science Qibing Pei in an interview with EE Times. "Being stretchable and highly flexible means that OLED lighting panels and displays could be like wallpaper — very thin, lightweight, and collapsible into a small volume when not in use."
To prove the concept, Pei and Jiajie Liang, a postdoctoral scholar in Pei's Soft Materials Research Laboratory at UCLA, fabricated two small stretchable OLEDs — one a lighting panel and the other a passive five-by-five pixel display. Both were demonstrated to be bendable, foldable, and stretchable while operating, surviving over 1,000 trials of stretching 30 percent larger than their original shape and size. The lighting panel and display were also demonstrated to be stretchable and bendable in any direction, surviving stretches of up to twice their original size and 180 degree bends.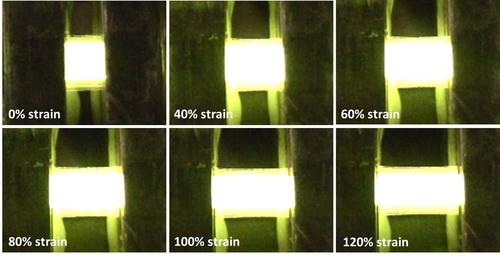 To achieve a stretchable, bendable OLED, the researchers had to reengineer all the materials in an OLED stack. Pei cited two key elements that led to their success:
"First was the development of a transparent compliant conductor comprising a percolation network of silver nanowires in the surface layer of an elastomer film," said Pei. "The second key development is an OLED architecture that we call light-emitting electrochemical cell [LEC]. The LEC devices use a thin luminescent layer that is actually a mixture of electronic semiconductor and an ionic conductor."
Using low-temperature solution-based processing steps, the light-emitting electrochemical cell was sandwiched between the transparent elastic silver-nanowire composite electrodes made from a rubber-like polymer. For the display prototype, the composite electrode layers were patterned into rows on the top layer and columns on the bottom layer, thus enabling each pixel to be separately addressed.

According to Pei, the benefits of a light-emitting electrochemical cell over a conventional OLED is that its emissive layer can be relatively thick, thus enabling packaging techniques such as lamination during OLED fabrication. Secondly, the injection of electrons and holes is independent of the electrode material's work-function, thus their silver nanowire architecture could be employed for both hole injection at the anode as well as electron injection at the cathode.
Next the researchers are working on encapsulation methods that protect the organic materials from deterioration in the presence of air, as well as on flexible thin-film transistors (TFTs) so that active matrix displays can be fabricated using the same basic stretchable, bendable material stack.
Also contributing to the work was UCLA postdoctoral scholar Lu Li, former UCLA postdoctoral scholar Zhibin Yu (now a postdoctoral scholar at the University of California at Berkeley), and UCLA doctoral candidate Xiaofan Niu. Funding was provided by the National Science Foundation (NSF) and the Air Force Office of Scientific Research.
---
---