Thin film solar cells may rival silicon
By eeNews Europe
---
Today run-of-the-mill single-crystal silicon solar cells—the most used variety—average about 25 percent efficiency, although advanced designs have been reported to have efficiencies approaching the theoretical limit of 33 percent.
The cheap thin-film variety favored by Chinese manufacturers and other low-cost solar cell suppliers use achieve significantly lower efficiencies, although last month Japan's National Institute of Advanced Industrial Science and Technology (AIST), the Photovoltaic Power Generation Technology Research Association (PVTEC), Sharp, Panasonic, and Mitsubishi reported a triple-junction thin-film solar cell built in a joint venture that achieved in excess of 13 percent efficiency.
The Sharc25 project, coordinated by the Centre for Solar Energy and Hydrogen Research Baden-Wurttemberg (ZSW, Stuttgart, Germany) was funded to the tune of $6.9 million by the European Union's Horizon 2020 program in conjunction with the Swiss government's Federal Laboratories for Materials Science and Technology at Eidgenossische Materialprufungs und Forschungsanstalt (Empa, Dubendorf, Switzerland).
"Our solar cells could be used for small devices such as wearables," Ayodhya Tiwari, head of Empa's Thin Film and Photovoltaics laboratory and the scientific coordinator of Sharc25 told EE Times. "But our main interest is large scale power generation for applications in buildings and solar farms on a utility scale."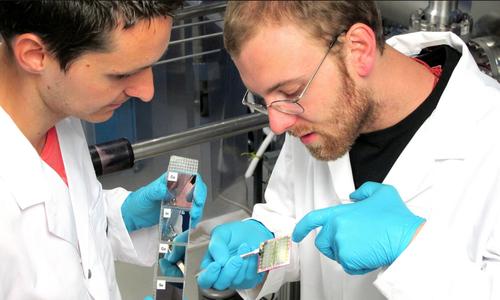 ---
Many other solar cell researchers worldwide have tried to increase the efficiency of thin-film copper indium gallium diselenide (CIGS) solar cells, and indeed have made advances in the last few years—some of which could be called breakthroughs, nevertheless no thin-film solar cell technology today rivals silicon. Empa, on the other hand, believes it has the hubris and the funding to achieve the as yet unachieved goal. Why?
"Because of the breakthrough results achieved during the last two years, and our analyses of the remaining losses in efficiency for which we see possibilities for further improvement. In science you follow logical facts and work on certain assumptions with good conviction based on your experience and knowledge provided by other experts. Innovation and breakthroughs are probable and we work to achieve success by trying our best and hoping for advancements," Tiwari told EE Times.
Their goal is admittedly ambitious, however these E.U. scientists believe they have to collective abilities to surmount the engineering hurdles they have already identified as holding back thin-film CIG-based cells from achieving efficiencies rivaling silicon. Plus they have the funding they need to do it, but their motivation is humanitarian—not for profit—giving their efforts a better chance of success.
"Our next step is to collaborate with our partners on this very ambitious project with a plan on which all the project partners are enthusiastic to bring their expertise to bear. I don't think we, as scientists, are just working for the end game, our ambitions and targets keep on rising, and we set new challenging targets as we go along. So our endeavor is to try our best until easily affordable solar electricity for all around the world is available. We have to work on processes suitable for industrial production and collaborate to transfer know-how into innovative ideas," Tiwari told EE Times.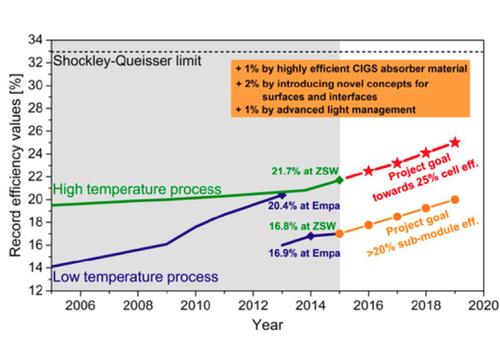 ---
The other project partners, besides Empa and ZSW, include the universities of Luxembourg, Rouen, Parma and Aalto, the Interuniversitair Micro-Elektronica (Imec), the Helmholtz-Zentrum Berlin (HZB) für Materialien und Energie, the International Iberian Nano-technology Laboratory (INL), Flisom AG and Manz CIGS Technology GmbH.
Empa has already achieved over 20 percent efficiency for CIGS-based thin-film cells on plastic foil, and ZSW has topped Empa at 21.7 percent and the rest of the partners believe they have identified the areas that need improvement to achieve 25 percent–namely improve absorption, more efficient surfaces and interfaces along with optimizing light management.
The consortium's ultimate goal is to best Asia's multi-junction solar cells with a cheaper single-junction thin film cell that reduces the cost of manufacturing solar modules in Europe below that in China, namely to $0.38 per Watt-peak for wearables, households and even grid-sized mass produced installations, according to Tiwari.
About the author:
R. Colin Johnson, Advanced Technology Editor, EE Times
Related articles:
Swiss CIGS PV start-up Flisom enters pilot production
Solar powered flight smashes long distance records
Metal-organic framework compounds: The future for flexible solar cells?
Tandem photovoltaics for record efficiencies?
---
---