Tiny display rides maker wave
By eeNews Europe
---
"You can get to market much quicker if you use off-the-shelf tools where complex technology is getting boiled down to much a simpler, modular [level]," Tiny Circuits founder and president Ken Burns told EE Times. "We're making electronic product design easier for low volume applications where someone might use a P/C 104-type stack."
The Akron, Ohio-based company first released TinyDuino, a quarter-sized Arduino-compatible platform with stackable shields, to strong Kickstarter support. Its latest crowdfunding venture is TinyScreen, a 24.4 mm TinyDuino-based OLED 16-bit color screen capable of displaying information and 23 frames-per-second video from a micro SD card. Essentially expansion boards for the TinyDuino, the screens are meant for wearables and gaming, while serving a market untouched by major manufacturers.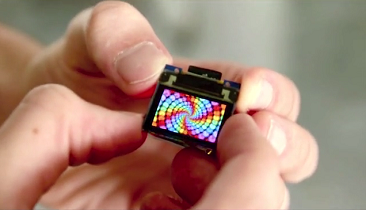 TinyScreen is "more for the hobbyist to kind of get their brain churning as to what sort of things they can do," Burns said. "It's more for the different applications Apple or Samsung don't address… Compared with other DIY things out there this is definitely a step up."
TinyScreen is open-source, with libraries, examples, and standalone apps available on Codebender. While it's possible Tiny Circuits may develop a higher-end screen, Burns says TinyScreen is but one way his company is thinking beyond making as a hobby.
"All these open-source tools and libraries being fed into Arduino open-source platform are becoming more applicable to professional engineers. We're seeing a number of major silicon vendors recognizing that, and they have done platforms that are either similar or compatible to Arduino's form factor or software. That's the mindset we were thinking of: How do we make it more desirable for professional OEMs to use this sort of technology in an actual product?"
Combined with dozens of shields for the processor board — including sensors, output boards, and communications modules — Burns sees the TinyScreen as marketable to low-volume manufacturers who want easy connections. In further service of its goal of migration to OEMs, Tiny Circuits is prototyping WiFi and radio boards to debut next year; the boards will be lower-end and lower-cost to compete in the 16 bit micro arena.
Set for spring 2015, Tiny Circuits' prototype for a processor board with an 802154 radio is slated for industrial mesh sensor networks. The generic baseboard is ideal for connecting a wide range of sensor options, says Burns, adding that he worked on the WirelessHART development team for a wireless standard and protocol for doing process control network.
"As an OEM… if you're doing low volume, you can buy this and embed it into your product. Zigbee is still the big guy out there when people think of mesh. We're not tied with any protocol, so [the new boards are] a generic option people could put different software on."
Four push-button controls make TinyScreen good for gaming.
Tiny Circuits' upcoming WiFi board is also slated to be inexpensive and low power, supporting 802.11b/g/n for the Internet of Things. While similar in concept to San Francisco startup Electric Imp, Burns says his company's open-source design is more flexible for manufacturers that may not want customers to use a proprietary service.
Tiny Circuits has surpassed crowdfunding goals for both its Kickstarter projects and is currently working to purchase mass quantities of its TinyScreen screens. Based on funder response, Burns and Tiny Circuits may be on the right path with open-source hardware for OEMs. New engineers are first exposed to Arduino and Raspberry Pi, then gravitate to what they know, according to Burns.
"We kind of see ourselves as a bit of migration from hobby to professional," he says.
— Jessica Lipsky, Associate Editor, EE Times
---
---
Register to our newsletter