Video shows world record speed for autonomous car
By Nick Flaherty
---
Researchers from Italy have broken the world record for the fastest autonomous car.
The driverless car was developed by a team from the Politecnico di Milano-PoliMOVE and reached a speed of 192.2 mph/309.3 kph on the straight of the Space Shuttle airstrip at NASA's Kennedy Space Center in Cape Canaveral. The previous record held by Roborace was 175.49 mph/282.42 kph).
The speed was obtained as an average of over 1 km in two consecutive attempts in opposite directions to eliminate the effects of the wind. The Politecnico was the only team to attempt this, following their victory in Las Vegas in the Indy Autonomous Challenge in January where PoliMOVE reached the track speed record of 172,9 mph/278.4 kph.
All the teams raced with the same vehicle, the Dallara AV-21, to determine the best AI algorithm for autonomous operation running on a 'high end GPU'.
The AV-21 driverless race car is a collaboration between Dallara's Italian headquarters in Varano Melegari (Parma) and the Dallara IndyCar Factory in Speedway, Indiana, with electronics from Clemson University's Deep Orange 12 (DO12) project. Sponsors include ADLINK, Ansys, Aptiv, AutonomouStuff, Bridgestone, Clemson University's International Center for Automotive Research (CU-ICAR), Dallara, Microsoft, New Eagle, PWR, RTI, Schaeffler, and Valvoline.
In partnership with The Autoware Foundation, Open Source Robotics Foundation and the Eclipse Foundation, Adlink provides open source autonomous driving tools and expertise, including support with ROS 2, Eclipse Cyclone DDS and Zenoh, and Autoware.Auto.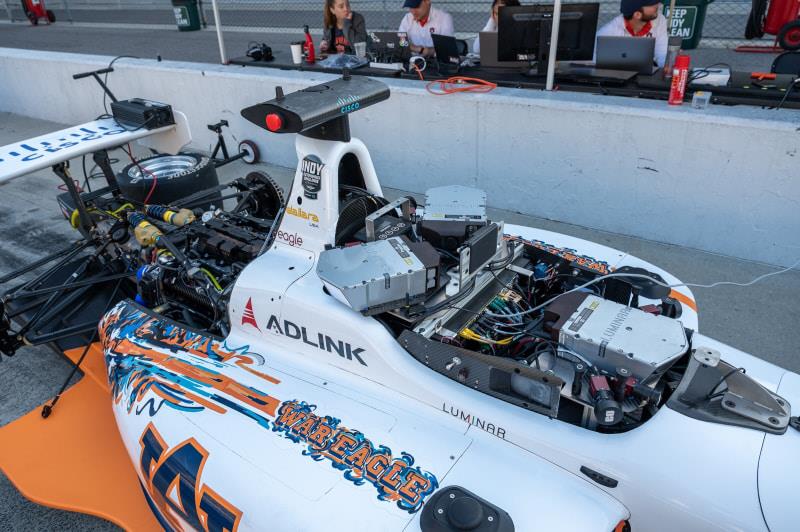 Adlink supplies its AVA-3501 series rugged edge platform for the in-vehicle computing, based on the latest Intel Core and Xeon processor options with dual-slot full-length NVIDIA RTX graphics for AI acceleration. Depending on the configuration, the system can also provide 3TB of Samsung 970 EVO Plus NVME M.2 SSDs, two 512GB hot-swappable 2.5″ SSD SATA 6 Gb/s system drives, dual 40GbE QSFP+ connectivity, and six CAN channels. This is in addition to a standard I/O set including DP++, DVI-I, GbE, 8-channel Digital IO, and six USB ports.
Next week the team will attempt to replicate the feat on the Atlanta circuit, this time on a race track and not on a straight.
"We saw what the future holds for autonomous vehicles and credit goes to the entire PoliMOVE team, especially Dr Brandon Dixon of the University of Alabama," said Prof. Sergio Savaresi, team lead of Politecnico di Milano. "We were running a car operating on algorithms alone, where precision is paramount, and any small prediction error could have created a completely different outcome. This test run was exhilarating, and we are thrilled with the world record, but we're also excited by the fact that this data will be made available to all, and the industry will benefit from our work and learnings."
PoliMOVE is part of the Politecnico research group mOve, led by Professor Sergio Savaresi, which has been studying for 20 years automatic controls in all types of land vehicles from electric bicycles to cars and even tractors.
https://www.move.deib.polimi.it/
Related driverless car and bus articles 
Other articles on eeNews Europe 
---
---