As of the end of 2014, 16 million mobile devices worldwide have been infected by malicious software, estimated Alcatel-Lucent's security arm, Motive Security Labs, in its latest security report released Thursday (Feb. 12).
Mobile infection rate since December 2012

Alcatel-Lucent's Motive Security Labs found 0.68% of mobile devices are infected with malware.
Using the ITU's figure of 2.3 billion mobile broadband subscriptions, Motive Security Labs estimated that 16 million mobile devices had some sort of malware infection in December 2014.
The report called this global estimate "likely to be on the conservative side." Motive Security Labs' sensors do not have complete coverage in areas such as China and Russia, where mobile infection rates are known to be higher.
Mobile malware samples since June 2012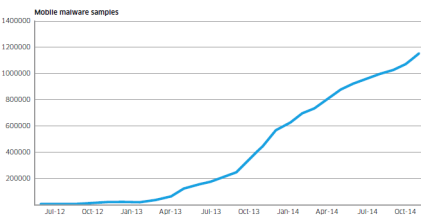 Motive Security Labs used the increase in the number of samples in its malware database to show Android malware growth.
The chart above shows numbers since June 2012. The number of samples grew by 161% in 2014.
In addition to the increase in raw numbers, the sophistication of Android malware also got better, according to Motive Security Labs. Researchers in 2014 started to see malware applications that had originally been developed for the Windows/PC platform migrate to the mobile space, bringing with them more sophisticated command and control and rootkit technologies.
Infected device types in 2013 and 2014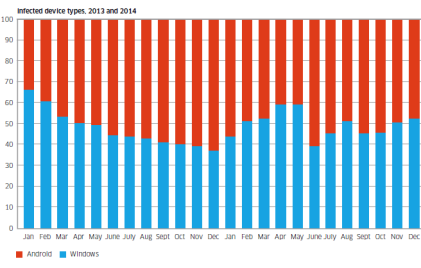 The chart shows the breakdown of infected device types that have been observed in 2013 and 2014. Shown in red is Android and shown in blue is Windows.
While the involvement of such a high proportion of Windows/PC devices may be a surprise to some, these Windows/PCs are connected to the mobile network via dongles and mobile Wi-Fi devices or simply tethered through smartphones.
They're responsible for about 50% of the malware infections observed.
The report said, "This is because these devices are still the favorite of hardcore professional cybercriminals who have a huge investment in the Windows malware ecosystem. As the mobile network becomes the access network of choice for many Windows PCs, the malware moves with them."
Android phones and tablets are responsible for about 50% of the malware infections observed.
Currently most mobile malware is distributed as "Trojanized" apps. Android offers the easiest target for this because of its open app environment, noted the report.
— Junko Yoshida, Chief International Correspondent, EE Times
Related articles:
Dutch government pushes for PUFs in smartphones
IoT cybersecurity: is EDA ready to deliver?
Cutting down on personal data leaks