Researchers at the University of Washington (Seattle) claim to have invented a simpler fusion reactor that is more economical than a coal-fired power plant, yet produces zero green house gases.
Fusion reactors offer the possibility of unlimited green power, being based on the same principles that make the sun shine. Instead of fission reactors that produce massive amounts of radioactive waste that must be stored for thousands of years, fusion reactors produce only a small amount of much less dangerous nuclear waste that only has to be stored for 10 years. Fusion reactors also do not present the danger of a melt down. Sutherland's and Jarboe's low-cost fusion reactor design will be presented at the International Atomic Energy Agency's Fusion Energy Conference in St. Petersburg, Russia on October 17, 2014.
The design, called a spheromak, began as a class project by professor Thomas Jarboe, but had not been proven a viable design until a prototype called the Dynomak was recently built by Jarboe and doctoral candidate Derek Sutherland, who had previously worked on reactor designs at the Massachusetts Institute of Technology (MIT).
The standard approach to fusion reactors today, exemplified by the joint Chinese, European Union, India, Japan, Korea, Russia, and US collaboration called the International Thermonuclear Experimental Reactor (ITER) in Saint-Paul-lès-Durance, France, is akin to using brute force compared to the more elegant Dynomak design invented at University of Washington.
"We eliminated the need for the expensive superconducting toroidal field coil set like the ITER in France requires, enabling us to make a much more compact reactor system that reduces the cost by a factor of 10 while increasing the output by a factor of five," Sutherland told EE Times. "The spheromak design generates twisted magnetic fields which drive a current in the plasma -- which is a really good conductor -- thereby confining and stabilizing the super-hot plasma in the reactor. A voltage transferred using induction generates these magnetic fields to achieve confinement and stability."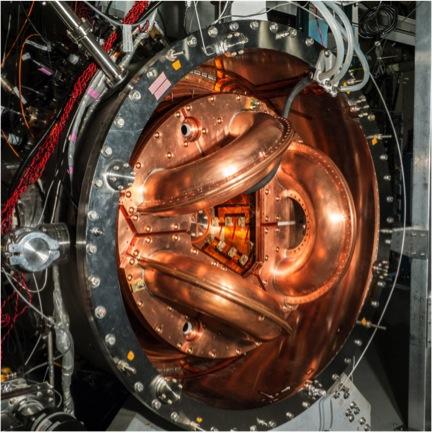 The current Dynomak prototype uses three toruses to helicity inject those confining and stabilizing currents into the plasma, however it does require a single coil in a feedback loop to maintain equilibrium inside the reactor during steady-state operation. Once power from the grid starts up the fusion reactions inside, a certain fraction of the power produced by the reactor generates the voltage for the toruses and coil that keeps it going in a steady state. It will take about about 73 megaWatts to keep the final gigaWatt Dynomak running in a steady state.