In announcing the planned acquisition of Freescale Semiconductor, NXP Semiconductor CEO Rick Clemmer last week explained how he expects the new entity — NXP and Freescale combined — to lead the growing automotive electronics market.
The automotive industry is looking for both solutions as a package. Freescale is doing exactly that. Just last week, Freescale unveiled at the Mobile World Congress its S32V microprocessor.
Inside the automotive vision SoC is CogniVue's second-generation APEX Image Cognition Processing technology. The SoC additionally supports the fusion of vision data captured by the S32V device. Fused in are other data streams, including radar, LiDAR and ultrasonic information to enhance resolution and image recognition, Freescale said.
Meanwhile, Freescale has its own radar solution. Its MR2001 is a high-performance 77GHz radar transceiver chipset "scalable for multi-channel operation enabling a single radar platform with electronic beam steering and wide field-of-view to support [multi-range] applications across automotive safety, communications infrastructure, and industrial systems," according to Freescale.
In vision Freescale and NXP have solutions using different vision algorithms experts. Freescale works with CogniVue and NXP is partnered with Mobileye.
In radar technologies, the merged entity is likely to profit from each other's diverging technology and market experience (Freescale's SiGe-based radars; NXP's nascent efforts for CMOS radar front-end transmitter chip).
Work has only begun
NXP's Reger acknowledges that the work has only begun on a single-chip all CMOS radar transceiver in future.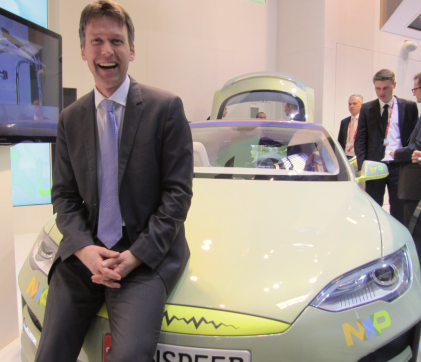 Aside from integrating the radar front-end chip with MCUs to make a complete system-level solution for ADAS applications, antenna developments also need to come along to shrink the module. 
Obviously, CMOS is lower cost, better integrates digital circuitry and benefits from technology scaling, compared to a SiGe bipolar process, but some say that's not enough. The maximum available gain at millimeter wave frequencies is known to be lower for CMOS, and its low supply voltage reportedly limits output power.
NXP's Reger, however, noted that the team is working on "the best radar illumination," to make more powerful, accurate and high-performance millimeter wave sensors that work for various range applications including mid and short-range.
The team is also working on a new scheme to connect multiple CMOS radar front-end chips via automotive Ethernet, so that they work as one.  
NXP's Dophin operates on 80GHz band, "plus or minus a few GHz," making it work between 77GHz and 81GHz, according to Reger.
About the author:

Junko Yoshida, Chief International Correspondent, EE Times
Related articles:
Dutch startup shrinks 60GHz radars, increases precision
Imec implements 79 GHz radar transmitter in plain 28nm CMOS